Chiropractic Care in Angola
How Can Chiropractic Care Help You?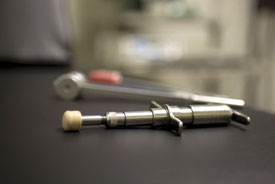 At Stevens Chiropractic Center, Dr. Stevens uses chiropractic care to remove subluxation in your spine. By reducing nervous system interference, your systems are able to function exactly as they were designed to, often reducing pain in the process and allowing you to live easier. After receiving care with us, many patients have reported a better quality of life and improved overall function outside of their initial complaint, which includes things like:
Headaches and low back pain
Shoulder and hip pain
Neck problems
Disc herniation and injuries
Extremity issues
Sciatic nerve pain
The Activator Technique
Dr. Stevens believes that by offering the Activator technique to nearly all patients who enter his practice, he's able to master the process and in turn give you the best care possible. We believe that this approach allows us to offer the most targeted and specific care to our patients. During the adjustment, Dr. Stevens will use a handheld tool that lets us know exactly where an adjustment is needed in your spine. With a gentle pulse, the Activator taps your spinal bones back into place.
Patients often love this treatment because it's effective, relaxing and doesn't hurt a bit.
Cox Flexion Distraction
For patients with disc injuries or herniation, Dr. Stevens may recommend Cox Flexion Distraction, a technique that involves the patient lying down on a table that is then adjusted based on your needs. This spinal manipulation method helps us to decompress your spine, freeing up proper space between the vertebrae.
Schedule Your Free Consultation
Angola chiropractor Dr. Stevens and his entire team are ready to help you and your family feel better with natural and gentle chiropractic care. Contact our practice today to get started—we offer onsite X-rays and flexible payment plans in our office.
We look forward to helping our community heal!
Stevens Chiropractic Center | (260) 665-9479